China Highway Polyurethane EVA Rotating Barrel
Brand :ODA
Product origin :QingDao,China
Delivery time :15 Days
Supply capacity :Monthly production of 2000 to 2500 cubic meters
EVA traffic crash barrels for highway, highway, road crash barrier. In order to protect the safety of drivers, reduce the impact of impact.
Polyurethane EVA (rubber and plastic) is a new organic polymer materials, because of its excellent performance
It is widely used in many fields of national economy. Product applications involving light industry, chemicals, construction,
Building materials, automobiles, defense, aerospace, aviation .... General advantages of polyurethane materials:
Hardness range wide (Shao A15 ~ Shao D90)
Under the same hardness, than other elastomers bearing capacity
Wear-resistant, high impact resistance
Rebound a wide range of compression 60% response rate of 100%.

Suitable for high frequency flexure applications

Good low temperature suppleness

Using a special formula, stable at 140 ℃

Not affected by ozone erosion, anti-mold

Radiation-resistant, corrosion-resistant, high temperature, low friction, does not absorb rain.

Can be processed on standard equipment, with wood, metal and most of the material bonding

Another also has the role of reducing noise.

Widespread oil, grease and chemicals. Made of this new type of anti-collision collision avoidance facilities, high flexibility.

And the useful life is higher. Up to 30-50 years. The overall cost is very high. Rotating fence product description is as follows: Rotor guardrail provides a scientific impact absorption mode, by rotating the friction mode to instantaneous impact energy into rotational energy and friction energy, effectively reducing the degree of vehicle damage. In addition, by rotating the vehicle to change the bounce angle, can resume the normal driving direction of the car, to avoid the occurrence of secondary accidents, vehicle safety staff can also be guaranteed life.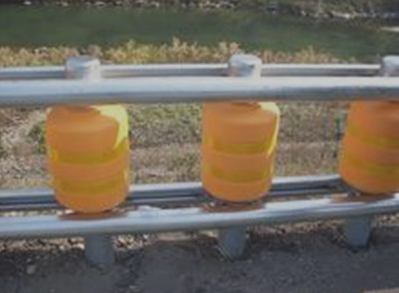 Please feel free to give your inquiry in the form below. We will reply you in 24 hours.